Free BI360® Composer Software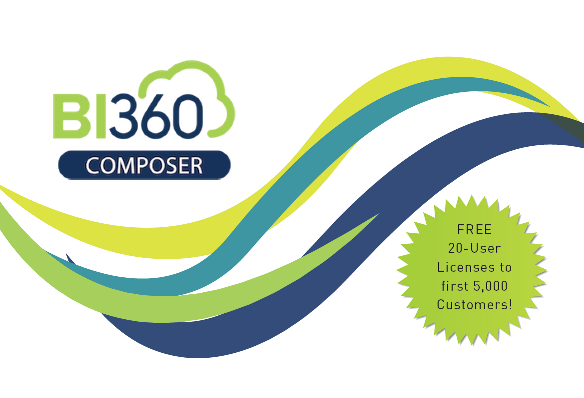 Please feel free to use our contact form to submit your request for this limited time offer.
BI360® Composer Demo
Who is the typical user of BI360 Composer:
The most typical users of BI360 Composer are accountants, financial & operational managers and sometimes department heads that want self-service access to query their ERP system to answer business questions like: How much did we pay this vendor the first 3 months of last year? Show me the trial balance with a control total and grouped by department, show me all sales by product by sales person.
How long does it take to install and learn BI360 Composer?
BI360 Composer typically takes from 10-20 minutes to learn and about the same time to install (depending on use of Terminal server/Citrix or local desktop installation). Ad-hoc reports can be saved and used again later.
What is the offer?
Solver is providing its Distributors & Partners with the opportunity to provide a total of 5,000 BI360 Composer licenses with 20 users ($7,788 value) to their NEW customers. Valid for all supported live ERP integrations (GP, SL, NAV, AX, SAP B1, Sage 100 (SQL), Sage 300, Sage 500, Sage X3, SAP Business One, Acumatica (on-premise). This is valid for BI360 Composer version 4.x (on premise or private cloud). 
Campaign Rules:
Starts on Sep 15th, 2017
Only available for live reporting on these ERP systems (GP, SL, NAV, AX, SAP B1, Sage 100 (SQL), Sage 300, Sage 500, Sage X3, SAP Business One, Acumatica (on-premise)
No free upgrade to BI360 Cloud (BI360 Composer in the BI360 cloud), but get 25% discount on year 1 of BI360 Cloud Composer
If there are any BI360 Composer 4.x updates these will also be free (but not BI360 5.0 which is all browser-based)
Available to the first 5,000 NEW customers to sign up. No expiration date on offer.
Customers also get free access to Composer training videos in the Solver support portal as well as user/training manual
Free training webinars will also be provided (dates to be announced)
Support not included
Installation, professional services or live training is not included.
Solver reserves the right to modify the terms and conditions of this Campaign at any moment, effective immediately.